Meet Our Team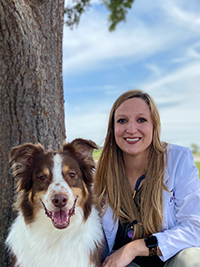 Dr. Mackenzie Deviney
Veterinarian
Dr Mackenzie Deviney (pictured with Graham) graduated in May of 2020 from OSU with a Doctorate of Veterinary Medicine. Dr. Deviney was introduced to Walnut Creek when she chose to complete her externship here in December of 2019. By Dr Wright's invitation and in appreciation of our staff, Dr Deviney was thrilled to join the Walnut Creek family.

Dr. Deviney grew up on a farm in Maysville with an abundant variety of animals. This upbringing helped her to realize at a young age that she wanted to be involved in veterinary medicine. Dr Deviney knows that her roll involves more than just loving animals and by being a mediator between humans and animals she strengthens the human-animal bond. She is the voice of animals in need, promoting the health and well-being of animals and their humans.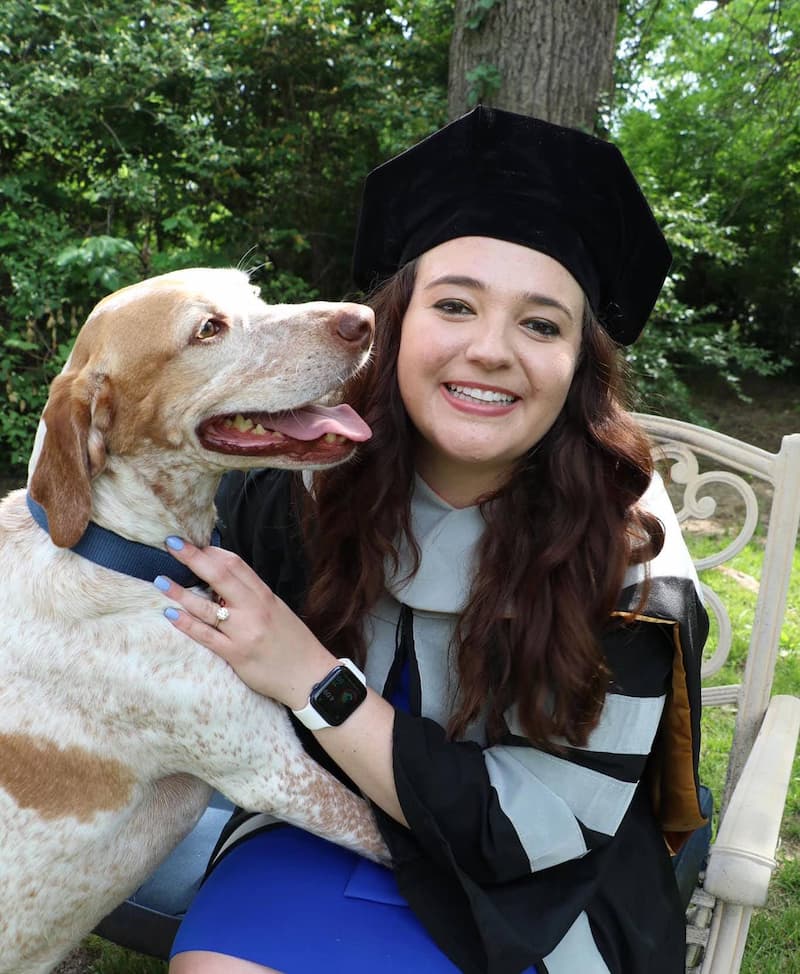 Dr. Alayna Thurman
Veterinarian
Dr. Alayna Thurman grew up in Norman, Oklahoma, and attended Oklahoma State for her bachelor's degree in animal science. She then moved to Columbia, Missouri, where she attended Veterinary School at Mizzou and earned her Doctorate Of Veterinary Medicine in 2023. Dr. Thurman met her husband, Dr. Dalton Thurman, in Missouri, where he was attending Chiropractic school at the time. Together, they spend time on the farm with their three large dogs- Sammich, Wes, and Luna.

Dr. Thurman fell in love with veterinary medicine around the age of 14 when her boxer had to have a leg amputation. Since then, she has worked in several small animal veterinary clinics, both in Oklahoma and Missouri. She strives to provide the best quality medicine to her patients and she loves communicating with clients about their beloved fur babies.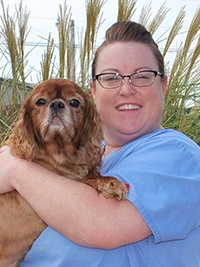 Micki Cottrell
RVT, VDT
Micki has been at Walnut Creek since 2005. Micki has always had a love for animals and a passion for science. Pairing the two together was obvious for her! She began volunteering at a veterinary clinic and quickly knew it was what she should pursue. Micki attended college at Murray State and graduated in 2000 with a degree in veterinary technology. Micki loves the connection between people and their pets. Taking care of both is her passion. Micki lives in Paoli with her husband, Greg, and their son, Jake. They enjoy family time together showing sheep. They have many farm animals, three dogs, Shortie, Miles, and Dolly and two cats, Ruckus and Nadi.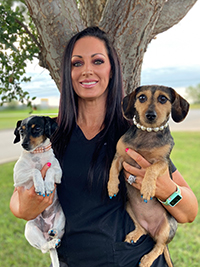 Crystal Haney
RVT
Crystal Haney, RVT became a Walnut Creek Family member in September of 2017 after receiving her licensure in Veterinary Technology. Crystal's love for science, medicine, and pets led her to pursue a degree as an Registered Veterinary Technician.. Crystal loves the challenges of being and RVT and that the learning never stops! She also enjoys educating clients about preventative care and has a special interest in animal behavior and training. She has trained her dachshunds (pictured above Winnie and Charlie) in basic obedience and has taught them some fun tricks.

Crystal's defining moment was when she assessed that a patient was not breathing and did not have a heartbeat. She alerted the doctor and began assisting the doctor in life saving procedures and the dog recovered well and is alive today! The owners now refer to her as the RVT that saved their dog's life. That event is what solidified in her heart she is doing what she was meant to do, saving animal's lives.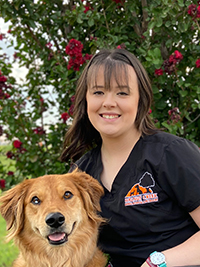 Kendal Sanford
RVT
Kendall Sanford was introduced to the Walnut Creek family during her externship here in June of 2020. Soon after, Kendall graduated from Murray State College with an Associates of Applied Science in Veterinary Technology. It was quickly obvious that she was outstanding in her field and we were so pleased that she accepted the invitation to join the Walnut Creek family!

As a young girl Kendall would often bring home stray animals because she couldn't stand the thought of any animals being alone. She was inspired by her father's compassion for animals as well. However, Kendall quickly became aware that she couldn't take every stray home, which fostered the realization that she could care for animals as a professional in veterinary medicine.

Kendall represents the quote "quality over quantity." She enjoys taking the time to understand her patients so that she may give them the best care and attention. She also enjoys forming relationships with clients and their pets.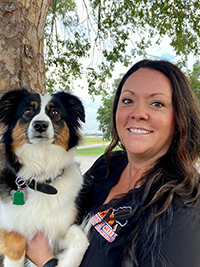 Tara Hensley
Kennel Assistant
Tara Hensley joined the Walnut Creek Family in July of 2019 when her daughter, Aubry, was working here and urged her to join the team. Tara is no stranger to veterinary medicine, her father is a veterinarian as well! Tara was a stay at home mom for 15 years and was ready to jump back into veterinary medicine and we are blessed to have her.

Tara could fill almost any role at Walnut Creek, but her kind demeanor, attention to detail, and her ability to multitask make her an amazing Receptionist. Tara enjoys meeting new people, getting to know our clients and their pets, and being with them during the exciting times when a new pet is joining the family or being by their side when it is time to say goodbye.